San Jose is a beautiful location for those looking at assisted living. Ranked as the 2nd best place to live in California, San Jose attracts innovation, outdoor enthusiasts, and retirees.
Facilities in this area could accept State Medicaid, private payers, and long-term care insurance.
CareAvailability.com has been used by families and care professionals in the San Jose area to find real-time assisted living openings and provide a comprehensive list of options for care.
We do all the work for you when it comes to finding the best assisted living in and around San Jose. We do extensive research on the facilities and provide you with the most current information and care availability.
About Assisted Living In San Jose, CA
Caring for someone who has physical or cognitive care needs can often be difficult in the home or simply not cost effective. Assisted living communities do a wonderful job in filling that need.
California is unique in that it is the only state in the U.S. that uses the Residential Care Facilities for the Elderly model. RCFEs – also known as Assisted Living – are non–medical facilities that provide room, meals, housekeeping, supervision, storage and distribution of medication, and personal care assistance with basic activities like hygiene, dressing, eating, bathing, and transferring. RCFEs serve persons 60 years of age and older.
This level of care and supervision is for people who are unable to live by themselves but who do not need 24 hour nursing care. RCFEs are considered non-medical facilities and are not required to have nurses, certified nursing assistants or doctors on staff.
In addition to providing care to residents, many RCFEs offer a full range of social, emotional, physical, and even spiritual services to their residents. Having a robust life enrichment program may be of great value to some.
Assisted Living Communities near San Jose, California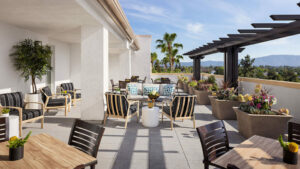 Belmont Village San Jose
Last Updated: 4 months ago
500 South Winchester Boulevard
San Jose, California 95128
Aegis Gardens
Last Updated: 6 months ago
36281 Fremont Boulevard
Fremont, California 94536
Aegis Assisted Living Of Fremont
Last Updated: 6 months ago
3850 Walnut Avenue
Fremont, California 94538
Blossom Valley Care Home 2
Last Updated: 10 months ago
23 Decker Way
San Jose, California 95127
Channing House
850 Webster Street
Palo Alto, California 94301
Forum At Rancho San Antonio, The
23500 Cristo Rey Drive
Cupertino, California 95014
Lincoln Glen Skilled Nursing
2671 Plummer Avenue
San Jose, California 95125
Masonic Home
34400 Mission Boulevard
Union City, California 94587
Moldaw Family Residences At 899
899 East Charleston Road
Palo Alto, California 94303
Saratoga Retirement Community Health Center
14500 Fruitvale Avenue
Saratoga, California 95070
Considerations when looking for care in San Jose, CA
San Jose, located in the Santa Clara County of Northern California is the 10th most populated city in the United States, with the population tipping over 1,000,000 in 2020's census. The warm climate, natural beauty, and diverse culture have led San Jose being a preferred location for senior citizens to retire, and so the need for senior care has become more of a factor.
San Jose is also home to many universities and other higher education institutes, including The University of Silicon Valley and San Jose State University.
Cities near San Jose, CA with Assisted Living
Santa Clara – 5 miles west of San Jose.
Sunnyvale – 11.5 miles northwest of San Jose.
Los Gatos – 13 miles southwest of San Jose.
Mountain View – 13.4 miles northwest of San Jose.
Palo Alto – 17.4 miles northwest of San Jose.
Stanford – 22.3 miles northwest of San Jose.
How To Pay for Assisted Living
Assisted living costs can sometimes come as a surprise given the constantly rising costs of care. However, there are ways in which some or all the cost of care may be covered.
Health Insurance, such as Medicare, will often not cover the expense related to a long-term stay at an assisted living facility. This leaves the cost to be paid for by another source.
Other means for paying for assisted living include:
Medi-Cal (by county)
Long-term care insurance plans
Veteran's Aid & Attendance benefits
Private funds
Whole life insurance plans
Reverse mortgages
How much does assisted living in San Jose, CA cost?
The average cost associate with care at an assisted living facility in San Jose, CA is $5500 / month.
The truth is that care, no matter the setting, but especially in nursing homes, requires robust staffing 24/7. The costs of hiring and keeping exceptional caregivers and medically trained staff such as nurses, is very costly. Add in the price of running a medical facility all day and night, pricey medical supplies and needed administrative staff, and you've got quite the overhead.
Although the cost can seem overwhelming, it's smart to look into financial planning for end stage retirement and expected care needs.
Local hospital and healthcare providers in San Jose, CA
Good Samaritan Hospital
2425 Samaritan Dr
San Jose, CA 95124
Santa Clara Valley Medical Center
751 S Bascom Ave
San Jose, CA 95128
O'Connor Hospital
2105 Forest Ave
San Jose, CA 95128
Regional Medical Center
225 N Jackson Ave
San Jose, CA 95116
Other senior care resources for San Jose, CA.
San Jose and the surrounding area are home to a good number of government agencies and non-profit organizations offering help for seniors and their families searching for or currently residing in an assisted living community.
California Department of Health Care Services
California Department of Social Services
Definitions of California Facility Types
California Long-Term Care Facilities FAQ
California Assisted Living Association
California Department of Aging