Tennessee Home care: Common Terms, How to pay for Home Care, Licensing and Questions to ask
The low cost of living in Tennessee helps make it a desirable location for seniors and retirees. The mild climate and beautiful scenery also appeal to aging adults. The state ranks high for senior care and housing, and the healthcare system is premier in the United States. Nearly 17% of the state's more than six million residents are aged 65 and older. With the passage of time, challenges of aging may cause living at home to become increasingly difficult. Typically, senior citizens prefer to age in place as long as possible, rather than move into a senior living community. People typically think of a retirement home or a nursing home when the time comes for seniors to retire or can no longer manage all day to day tasks. There are other options besides nursing homes. Tennessee Home Care (or In home Care) is designed specifically for aging adults who only require some basic assistance at home.
The state of Tennessee has several well-known cities where residents may receive excellent healthcare: Nashville, Knoxville, Chattanooga, Franklin, Memphis, among others.
Home Care may also be called In Home Care in Tennessee
Home Care (or In home Care) is suited for seniors who may only require some basic assistance at home. This may be an excellent care option for family members if they must leave town or just need a break from caring for their loved one. The Home Care aides bring a sense of personalization, providing companionship and socialization, and a sense of connection. The home aides may support with activities of daily living (ADLs), which include medication reminders, assistance with bathing and eating.
Home care and aging in place
In home care services include assistance with activities of daily living (ADLs). These in-home aides may assist with personal care and monitoring like they would receive in a long-term care community. All while they remain in the comfort of their own home.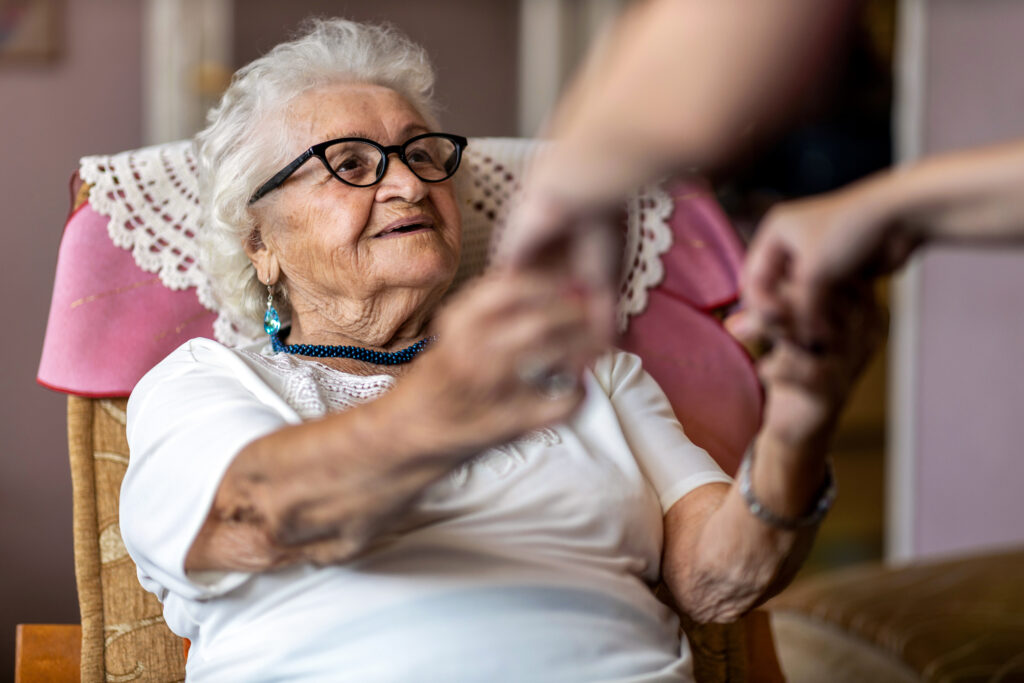 How do you know it may be time for Home Care?
What are the signs to look for?
Have you noticed your loved one is spending less and less time managing their hygiene or personal appearance. They may stop brushing their teeth or let their facial hair grow in an unkempt fashion when they didn't before. Are they going longer periods of time in the same clothing, or neglecting relatively scheduled eating habits? Grooming and hygiene live under the umbrella of ADLs, and as such a Personal Care Assistant may help with these tasks.
Is your loved one forgetting things more frequently? Typically, people forget things sometimes, but if you notice they are forgetting simple tasks they normally perform regularly, this may be a a sign that assistance is necessary.
It is not uncommon for elderly adults to experience trouble walking, getting up from a seated position or need help getting in and out of bed. Signs like this can be dangerous. The risk of a fall increases as mobility declines. The aide of a home care caregiver may assist with moving around the house safely.
Did you notice your loved one's home is in disarray? Have they usually shown signs of tidiness or regular cleanliness, and now the home is disheveled and dirty. In Home Aides may assist in normal household maintenance like dusting and sweeping, cleaning the kitchen or doing laundry.
What Assistance do In-Home Care Aides Provide?
Home Care Aides provide a variety of services and assistance. Depending on the individuals condition, elderly adults may require different types of care.
Services included in home care:
Often times, people think of nursing homes or retirement homes as the only places for senior care. As we've discussed earlier, there are multiple care options. And even within home care, there are levels of care suited for an individuals needs. The specific services offered in home care will vary state by state.
What are the different Home care services? 
Personal Care Assistant
Companionship as well as assistance with activities of daily living, (non-medical personal care) toileting, dressing, grooming, and bathing.
They can help with grocery shopping and meal preparation.
A personal care assistant can help with family difficulties. If a family caregiver must leave town or be away from the home overnight the caretaker can stay with the individual and monitor and assist as needed.
If a spouse is too heavy, a personal assistant can be a great asset in helping the individual move without risk of injury.
These care assistants cannot perform any medical care.
Companion Care
These companions spend time with older adults. Providing companionship is especially relevant for people who live alone, or do not leave the house due to cognitive impairments or frailty.
These companions are there to look after the person, keep a watchful eye, act as an extension of the person to help with mobility and general physic functions.
They may drive the person to appointments, prepare light meals and snacks. They may even play games or read and listen to music together.
Companion care is a great way to bring social interaction and assistance to a person who may otherwise spend long periods of time alone.
Laws and Regulations
Licensing
In home care agencies are licensed by the Tennessee Department of Mental Health, Licensing Division. These agencies are non-medical service providers.
Medication management
Any medication assistance may include setting medications within reach of the client, or opening packages, steadying their hand while taking medications. They may not administer medications.
Staffing
Staff who interfaces directly with patients and clients must undergo a criminal background check, and then every two years after employment.
Any staff who comes into direct contact with patients must undergo training that relates to the services provided and continued training every year.
Grievances
All suspected abuse must be reported to the Tennessee Department of Human Services, Adult Protective Services Unit.
The individual under care has the right to file a complaint with the agency:
Regarding their treatment and care provided. 
The failure of the agency to provide certain care. 
The lack of respect for property and/or person. 
Individuals have the right to participate in and be informed about, and consent to or refuse care in advance of and during treatment. 
How much does home care cost in Tennessee?
The average cost of home care in Tennessee is $4,600 per month. This is less than the national average of $5,000 per month.
National average cost of home care per month: $5,000
Tennessee: $4,600
Kentucky: $4,775
Mississippi: $3,825
Georgia: $4,300
Costs vary within the state. Some cities are more than others due to economic factors.
Nashville: $4,775
Chattanooga: $4,775
Knoxville: $4,765
Johnson City: $4,000
Questions and inquiries about home care
Agency Information
Is the agency RN operated?
Is the agency a franchise or locally owned and operated?
Is the agency licensed by WA State Department of Health?
Is the agency licensed for both home care and home health?
Does the agency have liability insurance?
Can the agency respond to you 24/7?
Caregiver Information
Are employees licensed, bonded & insured? Or are they independent contractors?
Does the agency test skills, conduct behavioral interviews and verify caregiver credentials?
Are caregivers required to have current certifications for First Aid, CPR, and TB?
Are caregivers provided continuing education/training?
Can authorized individuals monitor care and make requests online in real time?
Does the agency offer caregiver replacement when the "fit" may not be right?
Documentation and Supervision
Does an RN/MSW/Care Manager conduct a free home care assessment?
Does an RN/MSW/Care Manager create a home care plan?
Does an RN/MSW/Care Manager supervise the caregivers?
Do caregivers receive client orientation before arriving at a client's home?
Policies and Cost
Can services be cancelled with a 4-hour notification?
Does the agency offer flexible scheduling, custom care plans, and a continuum of care?
Does the agency have weekly or monthly minimums?
What is the hourly minimum per shift?
Does the agency offer home care discounts?
What is the required deposit?
Will the agency accept long-term care insurance?
Resources and Links for Home Health, Home Care and Hospice
Eldercare Locator is a nationwide service that connects older Americans and their caregivers with trustworthy local support resources. Connect with services such as meals, home care or transportation, or a caregiver education or respite from caregiving responsibilities. The Eldercare Locator is a public service of the Administration on Aging (AoA), an agency of the U.S. Administration for Community Living.
Medicare provides a search feature to find & compare providers near you, most senior housing and care providers are included on CareAvailability.com. Find & compare plans in your area. Determine if you qualify for premium savings.
Medicaid offers information on how to apply for Medicaid, eligibility criteria, links to local state offices, and additional resources.
The Alzheimer's Association is the leading voluntary health organization in Alzheimer's care, support and research. Whether you are living with Alzheimer's or caring for someone with the disease, information and resources are available. 
Hospice Foundation of America is to provide leadership in the development and application of hospice and its philosophy of care with the goal of enhancing the U.S. health care system and the role of hospice within it.
National Association for Home Care & Hospice is a trade association that represents the nation's 33,000 home care and hospice organizations and the caregivers who provide in-home health and hospice services.
Tennessee Areas Agency on Aging is a division of TennCare, supporting residents of the state with resources and program information.
PACE program provides comprehensive medical and social services to certain frail, community-dwelling elderly individuals, most of whom are dually eligible for Medicare and Medicaid benefits.
Search other areas for Home Care
Not finding what you're looking for? Take a look below.
Search Other Care and Housing Options