Montana Home Health: Common Terms, How to Pay for Home Health, Licensing and Questions to Ask
In Montana, a significant proportion of the population consists of adults aged 65 and older. The state is recognized for its diverse healthcare options and well-regarded hospitals. Additionally, the cost of living in Montana can be advantageous, as it may be less than the national average. Due to aging, it is common for individuals to require some form of care at different points in their lives.
Home health services in Montana stand out as a distinctive form of care compared to others. These services are typically designed so that patients can receive care in the comfort of their homes, as opposed to being admitted to long-term care facilities like nursing homes. Often, when people think of senior care, they envision nursing homes, but these are not the only available options.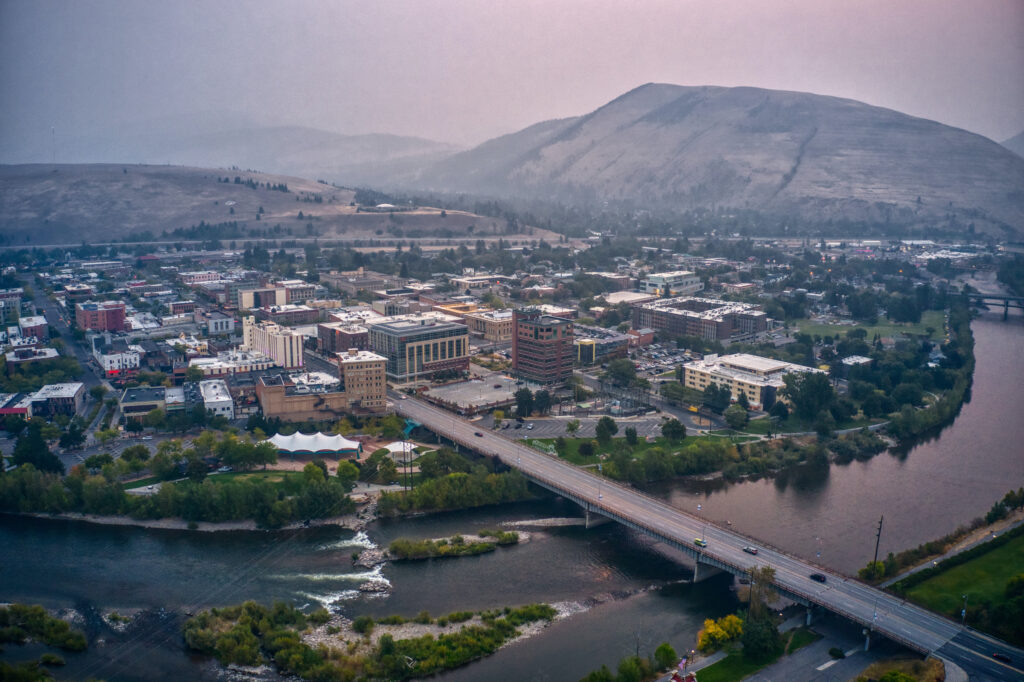 Definitions of types of care
Home Care: Caregiver assistance related to activities of daily living, including: mobility, eating, toileting, bathing and personal hygiene, dressing and grooming or cognition support. These services are typically not covered by medical insurance and do not require a physician's order.
Home Health: includes skilled nursing services, physical therapy, occupational therapy, speech language therapy and medical social services. A home health care agency may choose to be Medicare certified to be reimbursed for their services. Home health agencies may also teach you how to care for yourself. Services ordered by a physician, covered by Medical Insurance and typically provided following a hospital or skilled rehab stay.
Rehabilitation & Therapy: treatment for an injury, illness, or pain with the goal of restoring function, including nursing and therapy services. Rehab is ordered by
a physician and services are provided by nurses and physical, occupational, and speech therapists. Examples include working with a physical therapist to help you walk and with an occupational therapist to help you get dressed.
Respite Care: short term relief for family caregivers to take a break from the caregiving responsibilities and allows for a healthier and better quality of life for both the caregiver and care receiver. Respite services include: companionship, personal care, recreational activities and security. Respite care can be provided as short stay or for a longer period that allows the family caregiver to go on vacation or a business trip. Longer duration respite care is generally found at select senior housing communities although some Companion services may provide this service in the home.
Hospice Care (Palliative Care): emphasizes comfort measures and counseling to provide social, spiritual and physical support to the dying patient and his or her family. The goals of hospice are to keep the patient as comfortable as possible by relieving pain and other symptoms. Hospice care, is typically offered in the last six months of life and covered under Medicare Part A .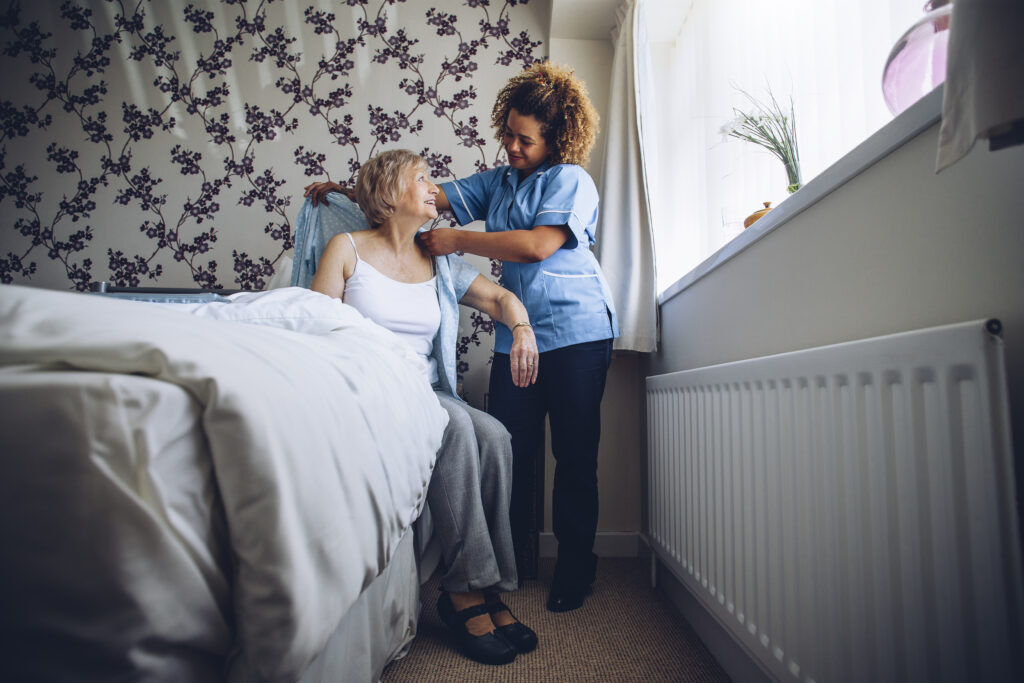 Short-term or long-term care?
Home health services are generally short-term (temporary), depending on the doctor's orders. Not all home health services require around the clock care. However, there are situations in which the caregivers continue the home health care beyond the doctor's order.
Service plans
These services are approved and prescribed by the individual's doctor. Within the home health plan is a detailed description of the type (or types) of medical care your loved one will receive. It will show you the plan for what types of care professionals will be delivering the care and the schedule they will be working.
What to look for in an Alabama Home Health Agency
Most commonly, your loved one's doctor will prescribe a home health agency. Being serviced by the agency your physician has chosen is not set in stone. You may choose to use a different home health agency if you'd like. If you know someone, a friend or family member who has received home health care and they were satisfied with their trained professional team, you can inquire into that agency.
The home health team consists of:
Physicians
Nurses
Home health aides
Certified nursing assistants
Physical therapists
Occupational therapists
What does the certified team of Home Health aides do?
Physical Therapists
Physical therapists work to help individuals regain strength and mobility after an injury. They may help with range of motion and muscle movement, relieve pain and improve general strength. The physical therapist will implement specialized exercises and teach how to do them with detailed instructions. Along with teaching rehabilitative exercises, they will be willing to answer any questions or concerns.
Registered Nurses (RNs)
RNs perform certain medical assistance, like changing dressings, managing catheters, injections, managing medications for patients. These nurses will make evaluations of the individual when visiting.
Certified Nursing Aides
These aides are certified to visit the home and provide medical care. They may help with ADLs as well. They are trained and certified to assist with mobility devices, administer medications, help with braces, massage and help with simple dressing of wounds.
With specific training, some certified nursing aides may operate medical equipment such as oxygen ventilators. Training and certifications will vary by state.
Home Health Aides
Home Health Aides come to the home and perform medical care. They may assist with activities of daily living (ADLs): preparing meals or bathing, getting dressed and even some light housekeeping as needed. These are trained professionals who can generally administer medications and may assist with mobility devices and other tasks.
Laws and Regulations for Montana Home Health
Licensing In Montana, home health agencies are mandated to be licensed to ensure the provision of quality and regulated services to the residents. The Montana Department of Public Health and Human Services is responsible for overseeing and enforcing these licensing requirements. Additionally, agencies can seek certification through Medicare and Medicaid to provide services and receive reimbursements.
Cost of Home Health in Montana
The cost of home health services in Montana can vary depending on the type and level of care required. Typically, individuals receiving home health services do not necessitate 40 hours per week of care. The hourly rate for home health care in Montana can range widely, possibly from around $20 to $50 or more, depending on the specificity and intensity of the services provided. It is advisable to compare prices among various providers and consider the individual's needs and budget when selecting a home health agency.
How to pay for Home Health and available coverage
Medicare:
Generally Medicare reimburses the cost of Home health services. Medicare typically covers your loved one when recovering from an illness or an accident or a surgery.
*Medicare covers the specific ailment. When treatment is completed Medicare coverage stops. 
Medicare is not a long-term care solution. 
Medicaid:
Medicaid programs are put in place on a state-by-state basis. Each state will have their own regulations regarding the coverage of care. Some individuals at a certain low-income level may qualify for Medicaid Home and Community Based Service Waivers.
Veteran Aid and Attendance:
This benefit is available to some military veterans or surviving spouses.
A veteran may qualify for as much as $2,050 each month.
A veteran with a sick spouse may be eligible for $1,600 per month.
If a veteran has passed, their surviving spouse can qualify for $1,300 per month.
Private Insurance:
Most health insurance companies typically cover some services for acute medical needs.
Do be aware, long-term coverage vary by plan. Not all long-term insurance will assist with home health services as the needs of the person tend to be temporary.
Private pay:
Families which can afford to do so may pay for care with private funds. Private pay can be a combination of retirement funds, personal savings, pension payments and family members may contribute funds toward a loved one's care as well.
Questions and inquiries about home care
Agency Information
Is the agency RN operated?
Is the agency a franchise or locally owned and operated?
Is the agency licensed by WA State Department of Health?
Is the agency licensed for both home care and home health?
Does the agency have liability insurance?
Can the agency respond to you 24/7?
Caregiver Information
Are employees licensed, bonded & insured? Or are they independent contractors?
Does the agency test skills, conduct behavioral interviews and verify caregiver credentials?
Are caregivers required to have current certifications for First Aid, CPR, and TB?
Are caregivers provided continuing education/training?
Can authorized individuals monitor care and make requests online in real time?
Does the agency offer caregiver replacement when the "fit" may not be right?
Documentation and Supervision
Does an RN/MSW/Care Manager conduct a free home care assessment?
Does an RN/MSW/Care Manager create a home care plan?
Does an RN/MSW/Care Manager supervise the caregivers?
Do caregivers receive client orientation before arriving at a client's home?
Policies and Cost
Can services be cancelled with a 4-hour notification?
Does the agency offer flexible scheduling, custom care plans, and a continuum of care?
Does the agency have weekly or monthly minimums?
What is the hourly minimum per shift?
Does the agency offer home care discounts?
What is the required deposit?
Will the agency accept long-term care insurance?
Resources and Links – Montana
Montana Office on Aging The Aging Service Bureau is housed in the Senior and Long Term Care Division under the Montana Department of Public Health and Human Services. The office is responsible for the administration of the Older American Act through the ten Area Agencies on Aging.
Area 2 Agency on Aging is an Adult and Disability Resource Center providing information and assistance to elderly individuals and adult individuals with a disability. They connect individuals to needed services, provide counseling on long term care needs, help with applications for assistance to various programs and help develop programs to meet the needs of local residents. Area 2 serves those in Judith Basin, Fergus, Petroleum, Wheatland, Golden Valley, Musselshell, Sweet Grass, Stillwater, Yellowstone, Caron, and Big Horn.
Area 5 Area Agency on Aging is an Adult and Disability Resource Center providing information and assistance to elderly individuals and adult individuals with a disability. They serve those in Beaverhead, Deer Lodge, Granite, Madison, Powell, and Silver Bow.
Missoula Aging Services Missoula Aging Services provides a wide array of programs and services for older adults, people with disabilities and those who care for them. As a one stop shop, comprehensive services and referrals are available (both an Area Agency on Aging and an Aging and Disability Resource Center). Programs include homemaker and respite services, hospital to home transitions, retirement services, personal consultations, help with Medicare/Medicaid/Social Security, transportation assistance, Meals on Wheels, liquid supplements, congregate (group) meals, farmers' market coupons, veteran directed care, caregiver support groups, companions for older adults, hundreds of volunteer opportunities, certified local ombudsman (advocates), onsite resource library, community classes (Medicare workshops, training for caregivers, balance improvement), elder abuse prevention, and statewide Medicare fraud prevention.
Area 8 Agency on Aging It is the mission of Cascade County Aging Services to promote an enhanced quality of life for a diverse population of older adults residing in this community by providing a comprehensive and coordinated system of services such as information and assistance, Senior Medicare Patrol, State Health Insurance and Assistance (SHIP), congregate and home delivered meals.
Eldercare Locator This is a great resource to search for specific care in specific counties and cities. This database is a nationwide resource that connects older Americans and their caregivers with trustworthy local support resources. Connect with services such as meals, home care or transportation, or a caregiver education or respite from caregiving responsibilities. The Eldercare Locator is a public service of the Administration on Aging (AoA), an agency of the U.S. Administration for Community Living.
Medicare provides a search feature to find & compare providers near you, most senior housing and care providers are included on CareAvailability.com. Find & compare plans in your area. Determine if you qualify for premium savings
Medicaid offers information on how to apply for Medicaid, eligibility criteria, links to local state offices, and additional resources
The Alzheimer's Association is the leading voluntary health organization in Alzheimer's care, support, and research. Whether you are living with Alzheimer's or caring for someone with the disease, information and resources are available.
Search other areas for Home Health