Nursing Homes in Oregon: A Comprehensive Guide
Looking for and selecting a nursing home in Oregon that checks off all the right boxes can be very intimidating for even the most experienced family members. You've probably got loads of questions from the costs to the services provided and everything in between.
Every state has different requirements, costs, and coverages, that's why CareAvailability.com created our full guide to finding and understanding skilled nursing facilities near you in Oregon.
What Is a Nursing Home?
A skilled nursing facility, also known as a nursing home, is classified by Oregon as a residential care facility serving seniors, people with disabilities, and temporary residents who are getting care during a rehabilitation period.
It's important to know which of those categories you or your loved one fall under since they are treated differently by health insurances including Medicare & Medicaid.
The term 'nursing home' is often misused for any type of facility that provides care outside of the person's home, however, there are many care options in Oregon for people to be cared for in less restrictive settings and at more affordable prices.
Nursing homes often offer long-term care (LTC for stays over 100 days) for people unable to reside elsewhere due to high medical needs, however, it is often not paid by health insurance and requires private funds or a LTC policy.
What Services Do Nursing Homes Provide?
Skilled nursing facilities are one of Oregon's highest levels of care outside of a hospital with capabilities to handle most injuries and illnesses that do not require emergency services but need to be cared for in a medical setting.
While most people utilize these facilities to recover from a serious injury or illness after a qualified medical stay at a hospital, some individuals find themselves needing the level of medical expertise for long-term care due to a chronic illness.
If you journeyed across Oregon to tour all of the state's nursing homes, you'd find that no two facilities are the same. Some are set up to remind their residents of a home-like environment while others resemble more of a hospital's layout. However, almost every option will be able to provide similar medical services.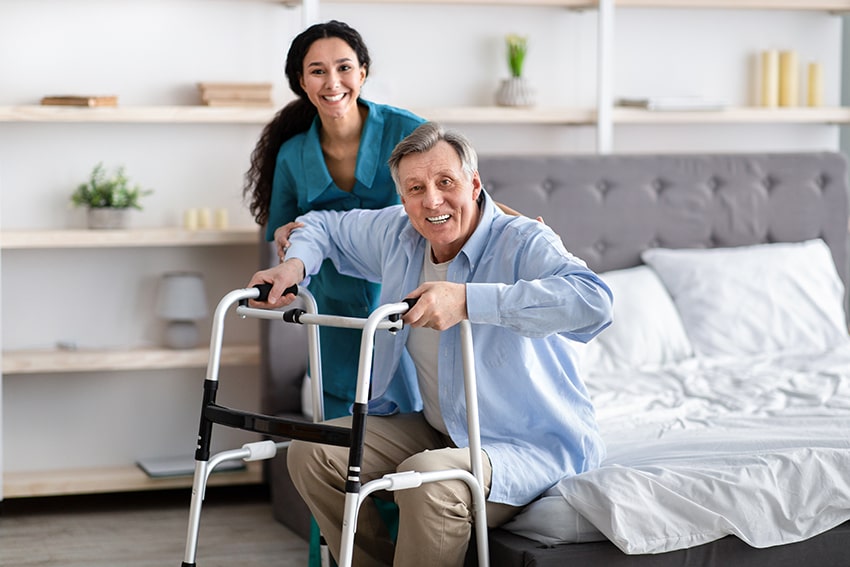 How Much Do Nursing Homes Cost In Oregon?
The cost of skilled nursing home care in Oregon can vary greatly depending on the type of care you receive as well as the location, however the average cost of nursing home care in Oregon averages $270 per night.
Health insurances, including Medicare, will often cover a significant part of the cost of nursing home care if the individual qualifies for rehabilitation after an incident or illness, however there are normally time limits associated with the benefit, such as Medicare's 100-day rule.
It's also important to note that if your loved-one or yourself need long-term care at a skilled nursing home, it will not be covered by health insurance but requires the individual to have a separate long-term care insurance policy to help cover the costs.
Does Oregon Medicaid pay for nursing homes?
If a person qualifies for Medicaid long-term care in Oregon, with Senior & Disability Services (APD) they are eligible to stay in a skilled nursing home covered by the State's benefit.
Why is nursing home care so expensive?
The costs associated with skilled nursing can induce panic with the sticker shock effect, but it's often not discussed as to why it costs $6000+ dollars per month.
The truth is that care, no matter the setting, but especially in nursing homes, requires robust staffing 24/7. The costs of hiring and keeping exceptional caregivers and medically trained staff such as nurses, is very costly. Add in the price of running a medical facility all day and night, pricey medical supplies and needed administrative staff, and you've got quite the overhead.
Although the cost can seem overwhelming, it's smart to look into financial planning for end stage retirement and expected care needs.
How do I find a good nursing home?
Finding a good nursing home facility requires due diligence from the person responsible for finding the best fit facility for their loved one.
1 Start your search online to get all your options and view live availability using our convenient care availability search. 
2 Print off or share the results of your search to map out what places are optimal for your loved-one. Is the facility close enough to encourage family members to visit frequently?
3 Do some smart online research by looking at what others have said about the community. However, don't just take every review as representative of the facility since the nature of caring for someone can be stressful and people often lash out online for things no one can control.
4 Then, do some good old fashioned in-person tours with all your options. We advise you to resist the temptation to select the first one you visit or give into sales pressure from the facility.
What should I look for when choosing a nursing home?
To find a good nursing home, or any care for that matter, you'll need to put in a little extra effort during your visit. Here are some tips on things to look out for:
What questions should I ask when choosing a nursing home?
If you're touring a nursing facility there are several people that you may be talking to, but no matter who it is, make sure that you have the opportunity to visit with multiple people in the building with different job titles.
Here is a short list of common questions to ask when choosing a nursing home:
Should my loved one go into a nursing home?
This is a great question to ask and deserves an informed approach to answer it. The simple answer to this question is to make sure you are talking with the right person to help you make this decision.
If you're in a situation where a loved-one or yourself are in the hospital, be sure to seek the advice of your doctor and the discharge planners involved. Be sure to ask if there are any other options available and what the expected time frame for the nursing home stay you might expect.
If skilled nursing is recommended as a permanent long-term care solution, we would encourage you to further talk with hospital professions, local advisors, and your local Aging and Disability Resource Connection specialist. Just because someone recommends a nursing home, doesn't mean that you might not find a better solution in an alternative setting with modifications.
What other types of care are there?
There are many types of care that are available in Oregon that aren't skilled nursing homes. Nursing homes happen to be the highest level of care outside of a hospital's acute care setting, so, if possible, care should be done in the least restrictive setting that can provide all your care needs.
Types of Care For Seniors In Oregon: (besides Nursing Homes)
In-Home Care – Care provided in the individual's home dwelling from another. There are many options for hiring, including hiring someone you know or trust, hiring a professional, or hiring an in-home care agency.
Adult Foster Care – Care provided in a home style environment with a maximum capacity of 5 people. This is a great option for people looking for a more intimate style of care but also comes with less services than facilities.
Assisted Living Facility – Perhaps the most well-known, assisted living facilities provide care to individuals in a community setting, providing mostly every care need an individual has but can be limited in what can be done medically.
Memory Care Facility – A specialized residential care facility that provides care for individuals diagnosed with a form of dementia.
Adult Day Services – Growing in popularity in Oregon, adult day services offer respite care daily for set hours. This is a great option for people looking to stay in their home but still require daytime coverage for care needs. They are great for social interaction as well.
Who regulates nursing homes in Oregon?
The nursing homes in Oregon are regulated by two different state agencies with different roles.  The Department of Human Services, under their Senior & Disability Services (APD), which oversees benefits pertaining to nursing homes and the Oregon Health Licensing Agency / Nursing Home Administrators Board (OHLA/NHAB), which regulates licensing and nursing requirements.
Who can you contact for nursing facility complaints or concerns in Oregon?
Looking to find a nursing home in Oregon?
Finding a nursing home in Oregon can be a difficult process, especially for those unfamiliar with Oregon's long-term care system. However, we make it easier for families and providers to use our real-time care availability search. Search now to get current information on all your available options, easily reach out for facility tours and more so that you can find the best nursing home fit for your needs.